Hawaii state Senior
Softball
State tournament that rotates with neighbor islands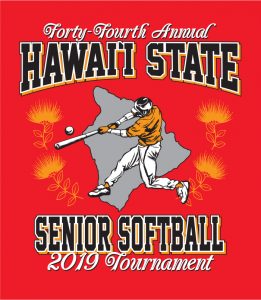 This annual event takes place during the last week of July or first week of August. The venue rotates among the outer islands: Oahu, Maui, Hawaii, and Kauai.
The 2019 Hawaii State Senior Softball Tournament is scheduled to play on the Big Island (Kona side), Tuesday, Aug. 6 to Thursday, Aug. 8. The coach's meeting is Monday, Aug. 5.
Hotel Accommodations
King Kam, Kona Seaside and Royal Kona does give discount to teams.
King Kam hotel contact is Alani Yamamoto (808) 329-2911.
.
Tournament Information
Tournament Schedule
OTHER Senior Softball
Tournaments
12-inch ball tournaments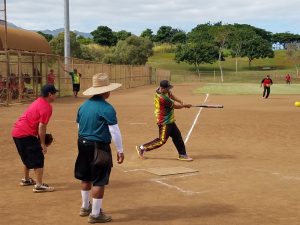 We will now host tournaments for 50 to 70+ year olds using SSUSA rules.The tournament will be playing the standard 12-inch softball (44/375), just like on the mainland, with 70 ft. baseline, sliding is allowed. All games will be at CORP.
Click here for tournament rules
Check back here for upcoming tournaments.
Next Tournament: Nov. 8-10 at CORP. Format: 50 and over.
Tournament Information
Tournament Schedule
Other Neighbor Island Tournament Information
FAST  (formerly East Kauai Senior Softball Tournament) in Kapaa — Oct. 24 to 26. Format: 60 and over, 12 inch ball.
Contact info: gduerst@sbcglobal.net
Mayor's Cup in Kona — Jan. 13 to 16, 2020. Format: 60 and over, 12 inch ball. www.hawaiimayorscup.org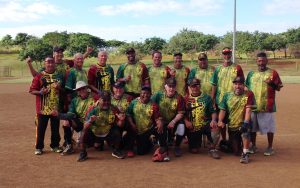 Hawaii 5-O, champion of the 50-55 Division tournament held in January.
Warriors 60s won the 60-65 division.
Click here for photos and videos from the tournament.
---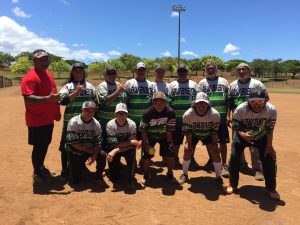 Hawaiians 60s won the June 10-11 tournament at CORP.