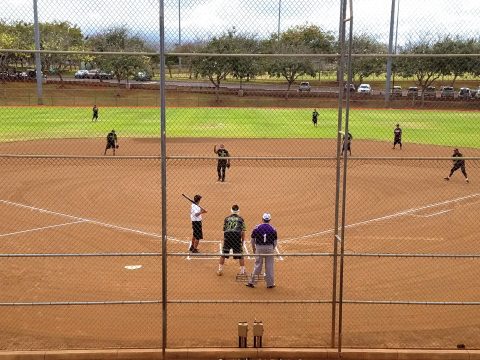 Our Wednesday league is open to players 55 and over.  The season starts in late August and is played year round.  All games are played on Wednesday mornings at the Patsy Mink Central Oahu Regional Park (CORP) in Waipahu. Other fields such as Kaneohe District Park and Mililani District Park are used for practice by league players during the week. Weekly game results are posted in this website and published most Thursdays in the "Honolulu Star-Advertiser" sports scores section under "Softball" and "Makua Ali'i."
General rules for play are guided by the organization "Senior Softball-USA" (SSUSA) with specific modifications in league and state senior softball rules to adapt to local conditions, to enhance senior participation, and ensure increase safety to players.  For example the 14-inch ball is used, bases are 55 feet apart, over-running the bases are allowed, and no sliding.
For the current season, the league is comprised of 18 teams, with various levels of competitiveness and skill. The season ends with the participation in the annual Hawaii State Senior Tournament in early August which involves 60 to 70 teams throughout the State of Hawaii.  Teams in this tournament will compete against teams with similar season win/loss record in their leagues.  The state tournament is open to all eligible teams and not limited to the best teams.
For new interested players, please contact us.  You can join to play as a new player after the regular season starts in August but preferably before league teams finalizes their plans for the State Tournament later in the season.
NOTE: Batters will start with a 1&1 count ONLY on (any early) games on Field 2 or any other Fields where three games are played.
No more 0-0 count when you come to the plate and bat on this field.
Friday League
We recently incorporated mainland softball on Fridays to accommodate younger and older players wishing to play with the mainland standard 12-inch senior softball. This new league on Friday mornings is for players age 50 and above. The league will be using the standard 12-inch softball (44/375), just like on the mainland, with 70 ft. baseline, sliding is allowed. We would like to create two separate leagues where the 50 to 66 year olds play against each other, and 67 and above play against their own age group. Safety is our priority.